We are here to answer your questions
Here are some of the most frequently asked questions from our patients. If you cannot find the answer to what you are looking for here, do not hesitate to contact us.
Please note that our waiting period is currently 4 to 6 months for making an appointment.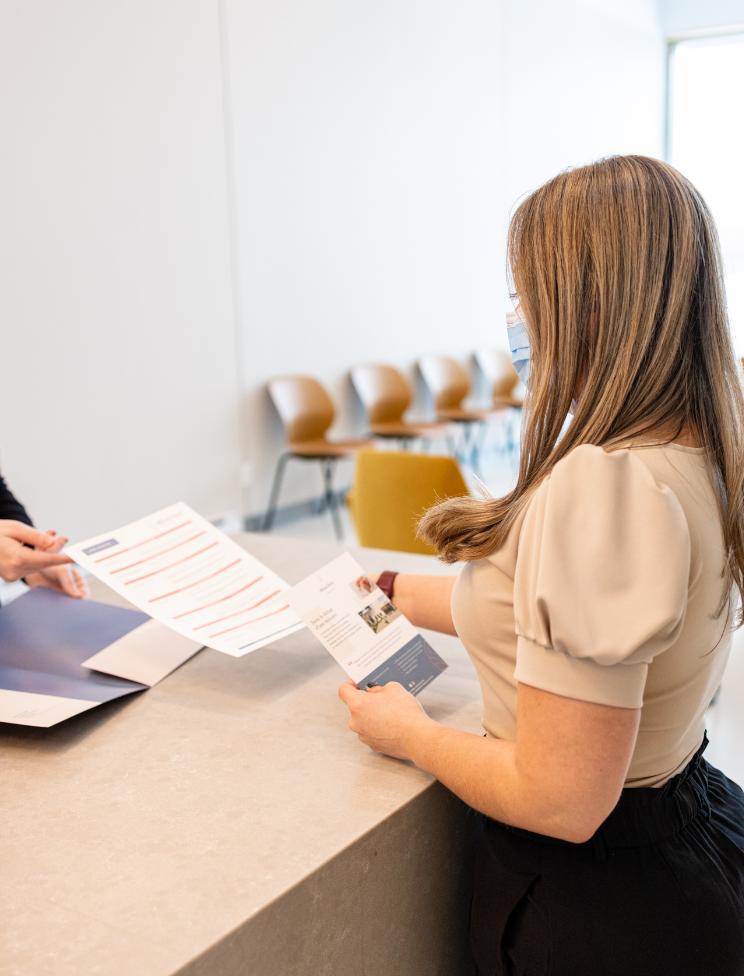 Lying down after a transfer increases my chances of pregnancy?
False, two studies from 2013 and 2016 show the opposite effect.
The study of 2013 shows that the live birth rate was significantly better for women who had not remained lying down. Similarly, the FC rate, although not significant, is lower in these same patients.
The study of 2016 shows that the rate of live births and clinical pregnancies is no different, but the implantation rate is lower in women who have remained lying down for 10-15 minutes.
https://pubmed.ncbi.nlm.nih.gov/23755954/
Should I put the endometrium or the prometrium on the morning of the transfer?
Yes, do not stop any medication without the agreement or direction of the doctor or nurse.
What is the difference between a day 3 and a day 5? Are pregnancy successes the same?
Embryo transfer can be done at two stages of development on day 3 or 5. At Miacleo, we favor transfers on day 5.
On day 3, the embryo contains between 6 and 14 cells. At day 5, the embryo called blastocyst contains hundreds of cells for which embryologists can assess the quality. The blastocysts go through six stages and the quality of the cells is graded A, B or C.
The scientific literature shows an increase in pregnancy success with blastocyst transfers compared to day 3 transfers.
Indeed, about half of the embryos of good quality at day 3 will become blastocysts at day 5.
From day 0 to day 3, cell division is ensured only by the genetic material of the egg. From day 4, the DNA of the spermatozoid will express itself and allow the embryos to become blastocysts. This is the most critical stage in the development of embryos, the one in which there is the greatest selection.
For this reason, at Miacleo, we favor transfers at D5.
Frozen embryos (TEC) give less pregnancy than fresh ones (TEF).
False, there is no significant difference between fresh and frozen transfers. Some studies even show that TEC give slightly more pregnancy.
Is there an "expiry date" for freezing gametes or embryos?
How long does it take to schedule a follow-up appointment for the requested tests?
We ask that you make an appointment 4 to 6 weeks following your exams. It is at your appointment that the nurses will review your file.
Are there waiting lists for treatments such as IVF, IUI or embryo transfer when the file is complete?
Once your file is complete, you will be able to start your treatment immediately. For the moment, there is no waiting list. However, if a list is created, we will quickly inform you.
Do you take on new patients?
We take on new patients even without a referral paper.
Who can apply to your clinic?
Single, Heterosexual Couple, LGBT Couple, person who wishes to benefit from fertility preservation services. Our services are offered to people with or without RAMQ.
What are the steps to enroll at the Miacleo Clinic?
Simply request an appointment
here
and you will automatically be put on our waiting list. You will also receive confirmation email.
How long does it take to get the first appointment?
The waiting period is 4 to 6 months to have a first appointment with the doctor.
What is the maximum age to enroll in your clinic?
The maximum age is 50.
Is there a minimum age?
The minimum age is 18.
If I have already done the process at another clinic, can I also apply to your clinic?
Yes, you can apply to Miacleo even if you have already done the process at another clinic.
Can I transfer my file from another clinic to your Miacleo clinic?
Yes, when you are called for your first appointment, you can send us your documents in PDF format. Otherwise, if you do not have them, we will give you access to a consent form that will authorize us to request your file from another clinic.
Will I have to retake all the tests?
At your first appointment, the doctor will discuss with you and determine if you need further tests based on your medical history.
What does the first appointment consist of?
The doctor will do your health assessment and answer your questions. He or she will determine with you which tests you will have to take.
Afterwards, a nurse will explain the tests and next steps in detail and answer your questions.
Can we make an appointment for assisted reproduction?
You can make an appointment for assisted reproduction. Please refer to the same procedure for your application to the Miacleo Clinic.
Make an appointment
.
Can we make an appointment if we are vasectomized?
Yes, refer to the same procedure for your application to the Miacleo Clinic.
Are there any restrictions to the BMI?
We do not discriminate for body mass index. However, it is possible that the doctor will prescribe more laboratory and recommend a weight loss of 5 to 10% of your initial weight to help with a healthy pregnancy. Also, we need to make sure that the ultrasound is echogenic in order to be safe during treatment.
Is it possible to buy a donor with Xytex?
Xytex is not part of the Quebec AHR program. You can purchase your donor through Canam. If you wish to purchase Xytex, you will have to pay the purchase price.
Can we do a spermogram at your clinic?
For the moment, the spermogram test is not available at Miacleo.
Which sperm and egg banks do you deal with?
For semen, all banks can deliver to the Miacleo clinic. However, some banks, such as Xytex, are not covered by the government program. In this case, you will be responsible for the cost of purchasing the sample.For eggs, the Miacleo Clinic is accredited by FairFax Eggs Bank and Cryos International.
Do you have a psychologist to refer to us?
We have a psychologist to refer only for patients who are followed at the Miacleo Clinic.
How does the government's RAMQ program work?
We invite you to consult this
link
, you will find all the information you need.
Do you do egg freezing?
We offer at Miacleo the egg freezing service.
Sperm straws refund
If you have paid full price for your sperm straw, either for an insemination or an in vitro fertilization covered by the RAMQ, please send us your invoice at facturation@miacleo.com. The reimbursement of the straw is made after the procedures that were covered by the RAMQ (either insemination or in vitro fertilization). Please allow 7 business days for your request to be processed.